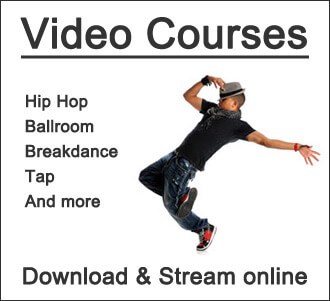 Learn to Dance is a great directory of resources for learning styles ranging from Ballet to Club to Irish Step Dancing. What stood out the most to me was how they stress the importance of learning dance terminology, particularly for ballet, in addition to the instructional videos teaching basic movements. My favorite section, though, is the Tap section. It is laid out in a very user friendly way and the videos are terrific. In addition to stand-alone free lesson videos, there is also a great guide to more in depth courses for those wanting to further their knowledge.
Dance to This is a website where users can upload videos of anything from choreography to basic steps. Since the content is user driven, it encompasses a wide range of levels, styles, and quality, but this also means that it is constantly updating and new material is available often, which is a great perk when you're trying to learn how to dance online. Also most of the dances uploaded are choreographed to trendy songs, peaking interest and ensuring entertainment. Once you feel confident in your abilities, you can choose to upload your own video of what you have learned and get feedback from other users. The site also features a dance off competition, where users upload videos and others vote for their favorites, and a pop up dance shop for those who enjoy some retail therapy every now and then.
For those specifically looking to learn how to Salsa damce, Addicted 2 Salsa is a wonderful resource. From absolute beginner to advance, Addicted 2 Salsa can cover everything. The site really stood out to me personally because their Complete Guide to Salsa Dancing for Beginners video was exceptional. Everything was broken down in a way that was simple to understand but also entertaining and fun. They even include videos of social dancing and playlists of salsa music to get you inspired. The site is accompanied by a blog to enhance users' knowledge of the salsa dance community and the highest rated salsa dance app for those on the go, which results in a really well rounded experience.
If you're interested in learning how to Bellydance, but not keen on the idea of other people witnessing your learning process, try it from home with Essence of Bellydance. The videos range from beginner to advanced, but also offer choreography and specialized workouts. Essence of Bellydance is definitely an online community with a welcoming feel, which really sets it apart. They also offer tips on dance and health, teacher training for those interested, and they have a workshop newsletter featuring workshops taking place all over the world for dancers who are ready to test their skills and hone their craft outside of their home.
Steezy's classes are broken down in a way that makes new material really manageable and easy to understand and new classes are added weekly, keeping things fresh. The highlight of Steezy though are the instructors. They are clearly very knowledgeable and they manage to make their passion for the craft evident and contagious through a video, which is not an easy task. The only factors placing this website a little lower on the list are that only one genre is taught, hip hop, and after the initial 7 day free trial, you have to pay to use any part of the service.
Dance Class offers a wide range of classes in varying genres and it is geared toward adults who are trying to learn how to dance online. From Ballet, to Pole Dance, to Flamenco, Dance Class has a video for anything and the instructors for each discipline are all fantastic. An additional feature that Dance Class offers that is very helpful is the dance class directory. If you have never danced before but are interested in trying something out, turn to Dance Class' videos to build your confidence. Then, use their directory to find a nearby dance studio to take your new hobby even further.
#1 Best Place To Learn How To Dance Online
If want to learn how to dance Dubstep, Freestyle or do any sort of Popping dance, Brambilabong is without a doubt the best site to turn to. It claims the top spot on this list not only because the videos are highly informative, a lot of fun, and focused on one of the most widely shared dance-video styles today, but because in addition to the comprehensive paid content available, there are also a ton of free dance tutorials available to help you learn how to dance from the comfort of your bedroom. By spending just a few minutes a day practicing the popping, animation, and robotics inspired dance-moves shown in these tutorials, you'll be ready to start uploading your sick freestyle-videos to Instagram in no time!
We recently sat down with the man behind Brambilabong, Adrian "El Tiro" Brambila and found out about his dance philosophy, belief in the importance of freestyle over choreography, and advice for people just starting to learn how to dance…